NOTE: This fanfiction is created and developed by CureKurogane as well as the characters that are created by him while the actual series is created by Zag Toon and Method Animation. Added new information must be approved under CureKurogane's permission.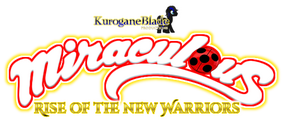 Miraculous: Rise of the New Warriors is a fanfiction series ceated by CureKurogane based on the Miraculous Ladybug series created and produced by Zag Toon and Method Animation. The series continues after the second season and features Marinette Dupain-Chang and Adrien Agreste as well as Alya Césaire, Nino Lahiffe, and Chloé Bourgeois, who are now high school students and fight the Akuma as Ladybug, Chat Noir, Volpina, Bumblebee, and Jade Turtle, and meet a new student named Lionel Oshiba who possesses the Lion Miraculous, thus transforming into a new mysterious hero named Lionheart, followed by five more students who also possess newer Miraculouses later in the series.
Unlike the original Miraculous series, that was developed in CGI animation, Rise of the New Warriors was developed in 2-D animation, in a style of Japanese anime under the work of Toei Animation. In foreign contries as well as France, the title for the show is Miraculous Heroes.
After fighting many supervillains and defeating Hawk Moth once and for all, Marinette Dupain-Chang and Adrien Agreste along with their friends, Alya Césaire, Nino Lahiffe, and Chloé Bourgeois better known as Ladybug, Chat Noir, Volpina, Bumblebee, and Jade Turtle finally get to focus on their normal lives and talk about their senior year in Lycée-Collège Montaigne. But one day, an Akuma was summoned by a new enemy named Lady Gypsy, who now holds the Moth Miraculous. Transformed, the five heroes take on the Akuma, and realized that it was stronger than the Akumas they fought. 
That is until they spot a new superhero appear out of the blue, having the theme of a lion. This new hero calls himself Lionheart, and defeats the Akuma, leaving everyone in shock.
The next day, Marinette and company finally step into the gates of Lycée-Collège Montaigne and meet some of their friends such as Sabrina Raincomprix, Nathaniel Krutzberg, and Lê Chiến Kim. However, they soon notice a new student enter the campus and he was wearing which looked like a bracelet. He introduces himself as Lionel Oshiba, a transfer student from America and everyone started to befriend him and show him around the school. Tikki, Plagg, and the other Kwamis started to look at the bracelet Lionel has and tells Marinette and the group that Lionel may hold a Miraculous, much to their surprise.
They alert Master Fu about Lionel and the bracelet he has gotten, giving him the biggest shock. Fu remembered that there were only seven Miraculous, but now it shows that there are more out there. With the news all revealed, Marinette and the crew develop a new goal in finding out if Lionel is really a Miraculous superhero and if there really are more Miraculouses out there. 
At the same time, they must fight alongside Lionheart and defeat Lady Gypsy and her new Akumas.
Characters
Edit
Main Heroes
Edit
New Miraculous Warriors
Edit
 Lycée-Collège Montaigne
Edit
Supporting Characters
Edit
Chapters/Episodes
Edit
COMING SOON...
COMING SOON...
Ad blocker interference detected!
Wikia is a free-to-use site that makes money from advertising. We have a modified experience for viewers using ad blockers

Wikia is not accessible if you've made further modifications. Remove the custom ad blocker rule(s) and the page will load as expected.