Madeleine Ruby is an oc created by NapstaBlookFan22 

please do not edit this page without permission.

Madeleine Ruby is a Miraculous Ladybug fan character created by NapstaBlookFan22. She is a 14 year old autistic student who goes to Collège Françoise Dupont's Australian Sister School, Orchard Hill High in suburban Melbourne, Australia. Madeleine is also one of 8 students going on the French-Australian exchange student tour. Madeleine is the current holder of the Gang Gang Cockatoo Miraculous.
Appearance
Edit
As a Civilian
Edit
Madeleine has slightly pale white skin, short dark brown hair, and blue/gold eyes. She normally wears a dark green jacket with a denim blue T shirt and grey pants. She carries a blue knapsack which is where her kwami, Blook hides.
As Gang Gang
Edit
She wears a grey bodysuit with orange yellow,and red arrow patterns around her chest. She is equipped with wings and a tail tipped with red, orange and yellow and her mask is completely grey. She wears the Gang Gang cockatoo miraculous on her upper right chest near her neck.
Personality
Edit
As a Civillian
Edit
Madeleine as a Civilian can be shy at first if getting to know new people. But when she is with the people she trusts she is full of imagination and creativity. She is obsessed with role play games and sci fi TV shows as well as being interested in other Miraculous heroes and villains worldwide (mostly) Volpina and Rena Rouge. She enjoys doing digital drawing and coding in her spare time as well as training and hanging out with her Kwami.
As Gang Gang
Edit
As Gang Gang her personality sticks to most of her same traits, though instead of getting distracted a lot she will always concentrate a lot better and remember to take her job seriously.
Relationships
Edit
Lila Rossi
Edit
Ayla/ Rena Rouge
Edit
Ladybug/Marienette
Edit
Chat Noir/ Adrien
Edit
Chloe/ Queen Bee
Edit
Madeline's name is actually a French name meaning "Tall towers".
A Gang Gang Cockatoo symbolizes celebration and strong passion in Australia.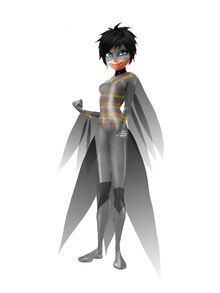 Ad blocker interference detected!
Wikia is a free-to-use site that makes money from advertising. We have a modified experience for viewers using ad blockers

Wikia is not accessible if you've made further modifications. Remove the custom ad blocker rule(s) and the page will load as expected.