Le Marieur/The Match Maker
Edit
Le Marieur or The Match Maker in english is Alice Southwest who was rejected by her crush, she asked him out which he rejected and told her to get lost and to never talk to him again, she was heartborken she was depressed she cried and cried, thats when a little akuma took over the necklace her grandmother gave her, she was now Le Marieur with her catchphraces like "cause everybody deserves a unhappy ending" "cause everybody deserves love" and "Oposits Atract"
Le Marieur actually made Sierra and Lucas have something for each other and thats how they ended up together, she was also going to make Marinette and Adrien get together with her "Love magic" but she missed, that was also going to happen to ladybug and Chat but she also missed.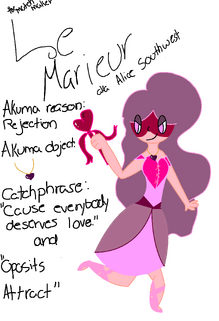 Ad blocker interference detected!
Wikia is a free-to-use site that makes money from advertising. We have a modified experience for viewers using ad blockers

Wikia is not accessible if you've made further modifications. Remove the custom ad blocker rule(s) and the page will load as expected.